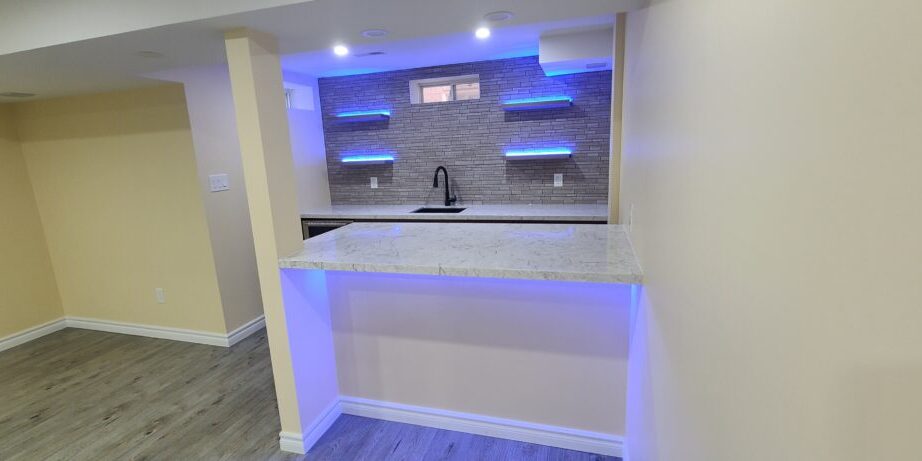 SOME IDEAS TO RENOVATE YOUR UNFINISHED BASEMENT
Looking to renovate your unfinished basement or to update your old, outdated basement but can't really figure out what you want to do yet? Lacking ideas or having a hard time to visualize what it can look like? We have plenty of ideas for you to finally finish that basement. With just a little bit of imagination you will be surprised with what can be done. Some of the hardest parts with designing your basement is trying to make the space function properly. With lots of HVAC, plumbing, structural (posts) right in the way, its hard to visualize how you can turn the space into something you can use it for. We are here to help.
REMOVING STRUCTURAL POSTS OR ADDING THEM INTO DESIGN
Very often when a client is looking to finish their basement, we run into the problem that a lot of structural posts that are holding beams which hold the floor above it are in the way. So very often they seem to be placed in the worst spots, right in the way of your design. Well we have good news for you. Most of the times those posts can be removed (with the proper supporting done) or they can be moved to a different location. We work with a structural engineering company that specializes in this. Often times we can even remove the bulk head that the beam creates and make the beams flush with the joists. This really helps with designing the basement. The less obstacles we have, the less problems we have with design. If the client does not want to spend the extra money for such structural work, then often we come up with a design the incorporates the posts into the walls of bedrooms, washrooms or closets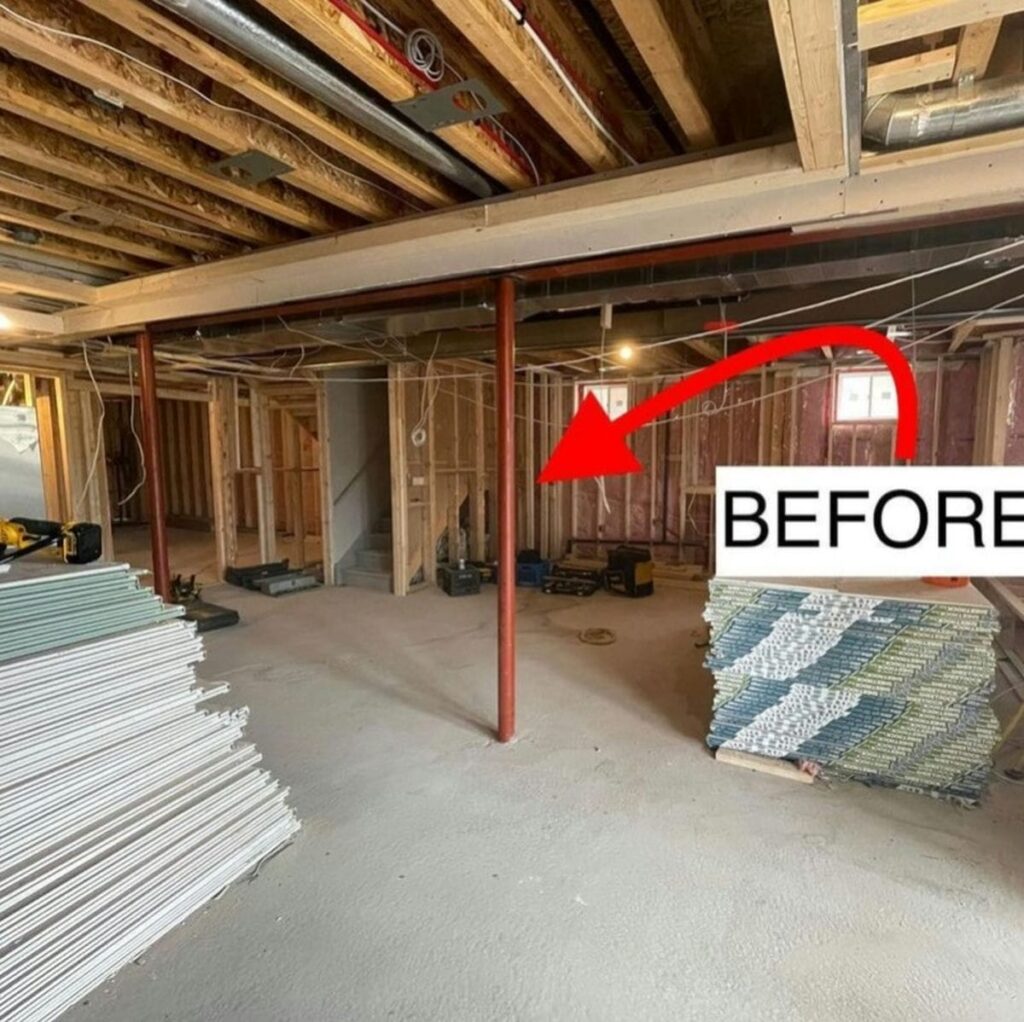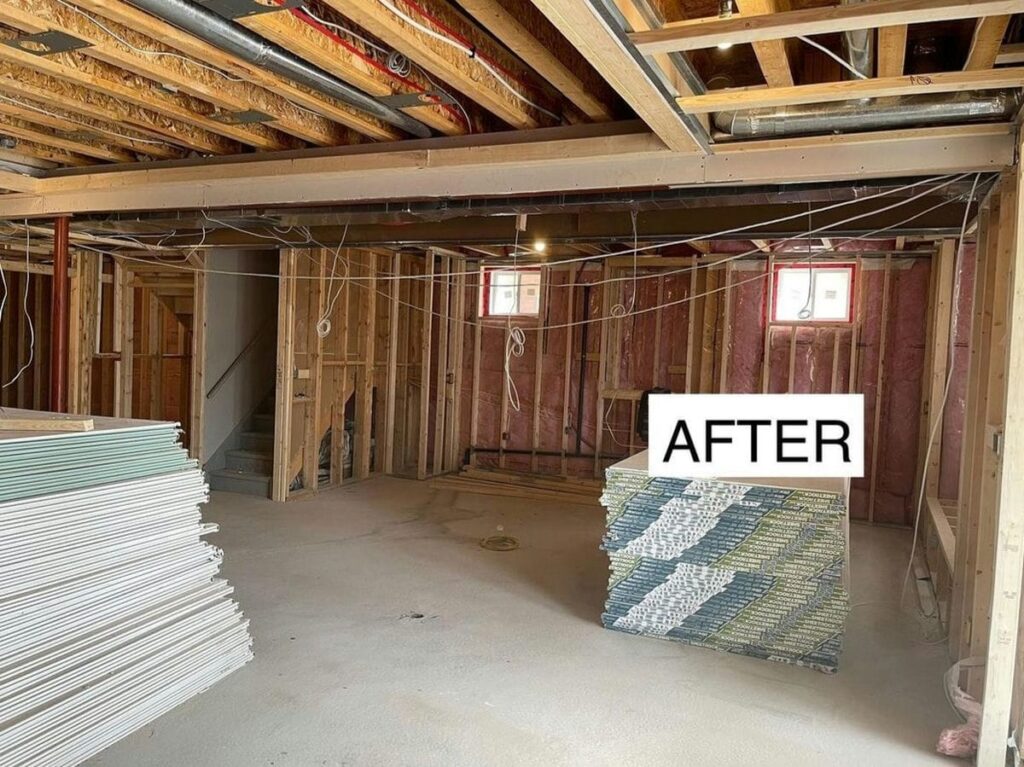 We work with a company called Open Concept Engineering & Construction LTD. Who do all of our structural work. You can visit them at: www.ocecltd.ca
CREATE A BAR/KITCHEN FOR ENTERTAINING
A basement kitchen and bar is an exciting home improvement project that can turn an unused space into an inviting and functional area. Depending on the budget and available space, basement kitchen and bar ideas could include adding a wet bar, beer tap, kitchen, seating area, or any combination of these. There are many options and ideas to help create the perfect basement kitchen or bar for entertaining and relaxing. The basement kitchen and bar can be tailored to fit your own needs and desires. You can choose from a variety of materials such as wood, metal, and glass to create the perfect atmosphere. Depending on the size of the basement space, you can create a one-of-a-kind kitchen design complete with appliances, storage, and counter tops. Or, if the space requires less, you can opt for a pub-style bar with mini-bar fridges and sophisticated lighting.The possibilities for your basement kitchen and bar are endless! There are many décor options to choose from, as well as small appliances such as microwaves and small refrigerators to complete the look. Depending on your needs, you could also consider including a sink, storage, extra counter space, and more. And for entertaining guests, think about adding bar stools, small tables, and even a keg or two!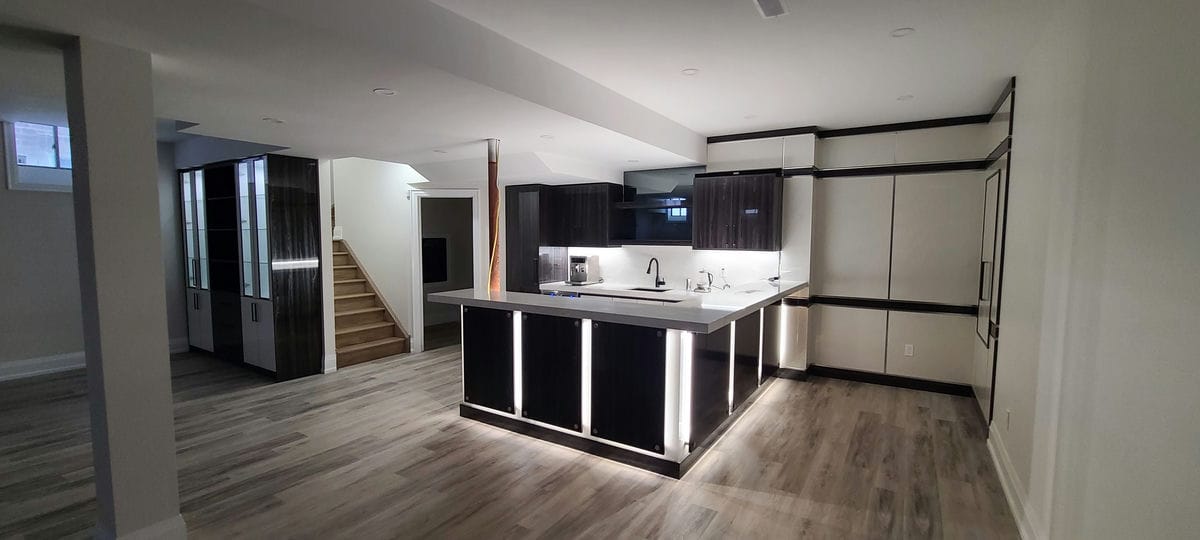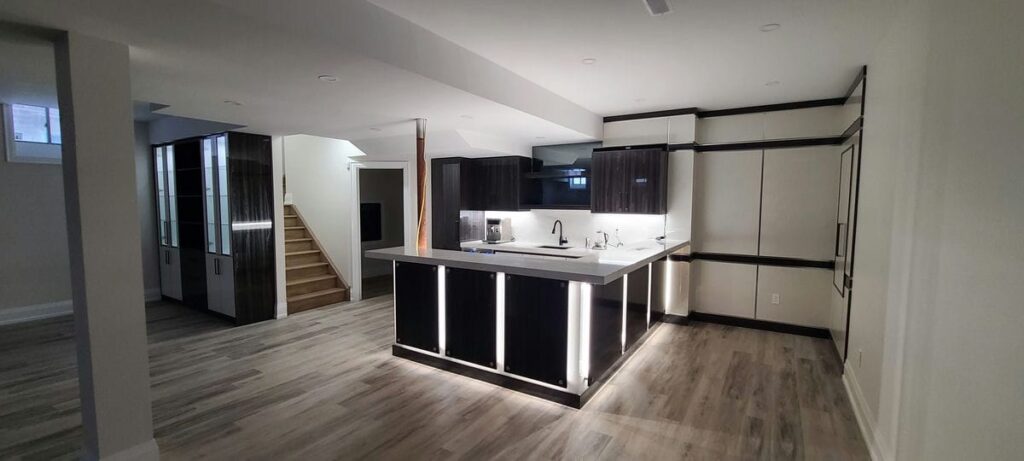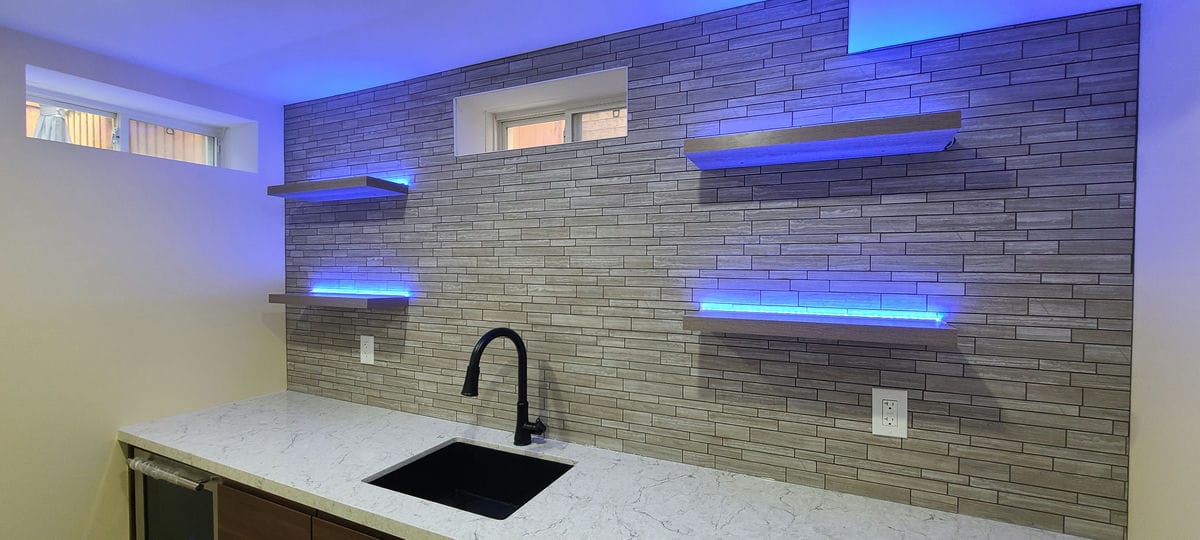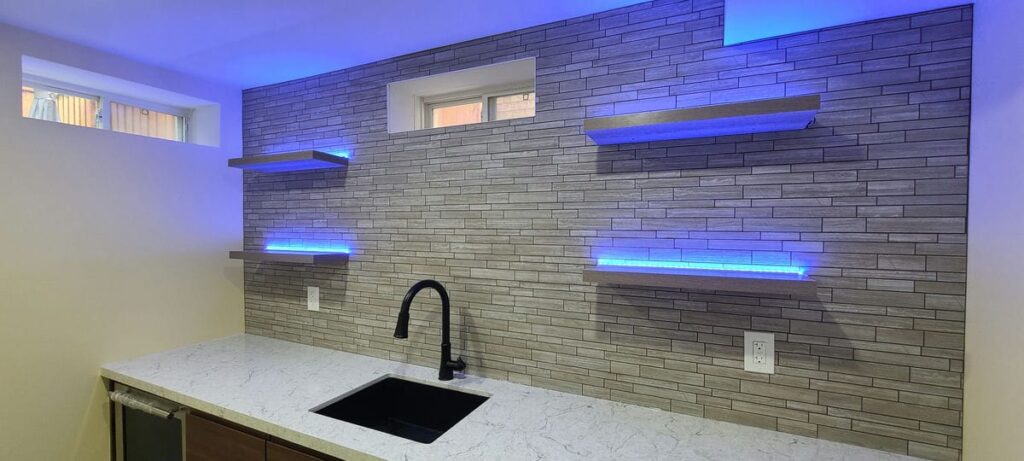 BASEMENT HOME THEATER
A basement home theater can be a great addition to any home. Some ideas for a basement home theater include:
Creating a dedicated space for the theater by partitioning off a section of the basement.
Installing a large screen and surround sound system for a cinematic experience.
Incorporating comfortable seating, such as a sectional couch or recliners.
Adding dimmable lighting to control the ambiance of the room.
Using soundproofing materials to reduce noise from the theater affecting other areas of the house.
Installing a projector instead of a TV for a larger screen and more immersive experience.
Incorporating a smart home automation system to control the lighting, sound, and temperature of the room.
Adding a small fridge or wine cooler for refreshments.
Incorporating a soundbar or bookshelf speakers for a more immersive audio experience.
Incorporating a game console, streaming devices and gaming chairs for a more interactive experience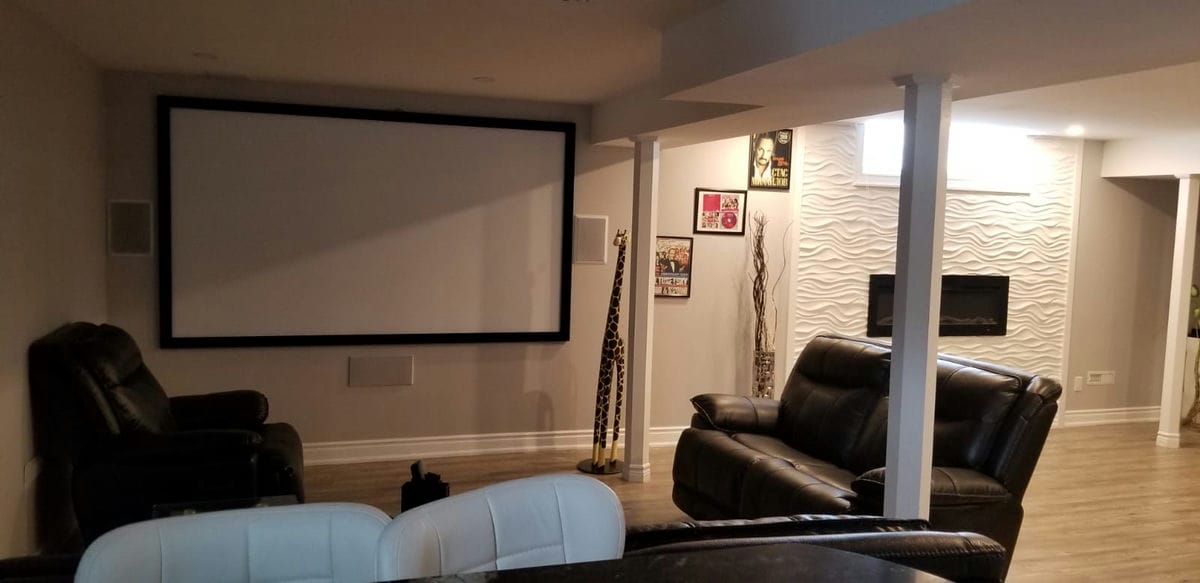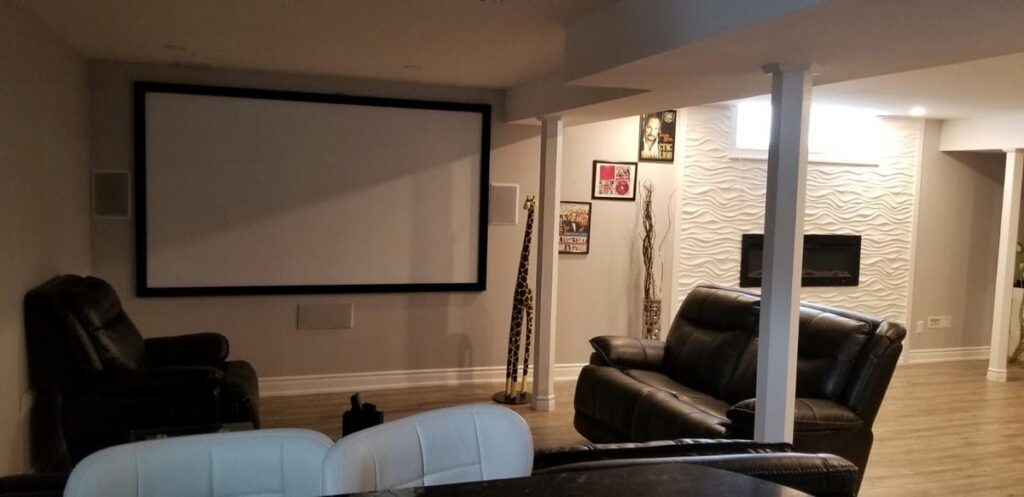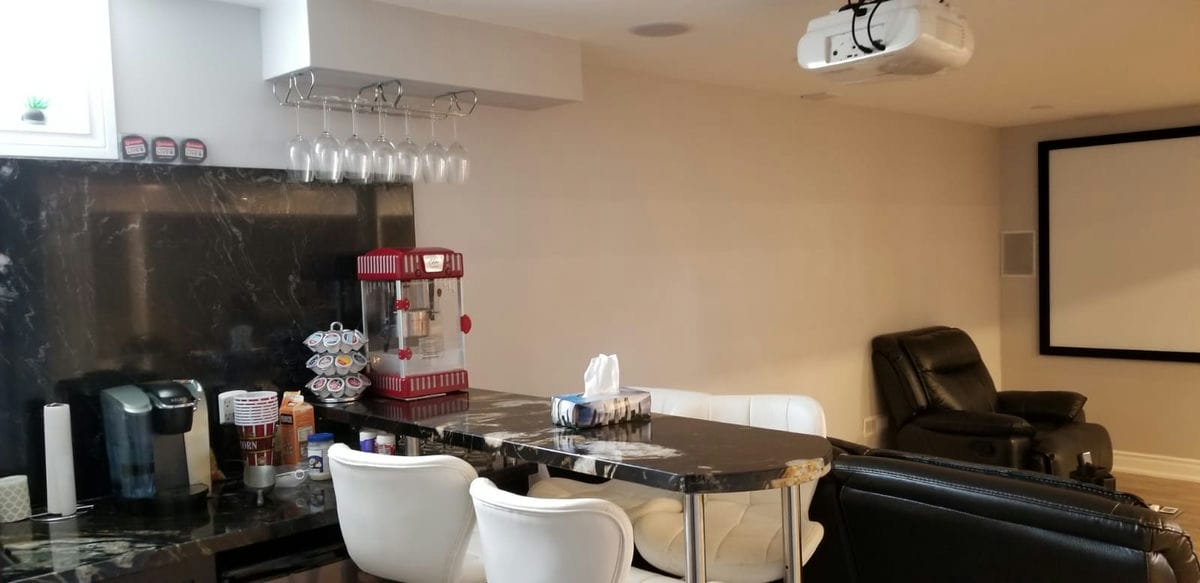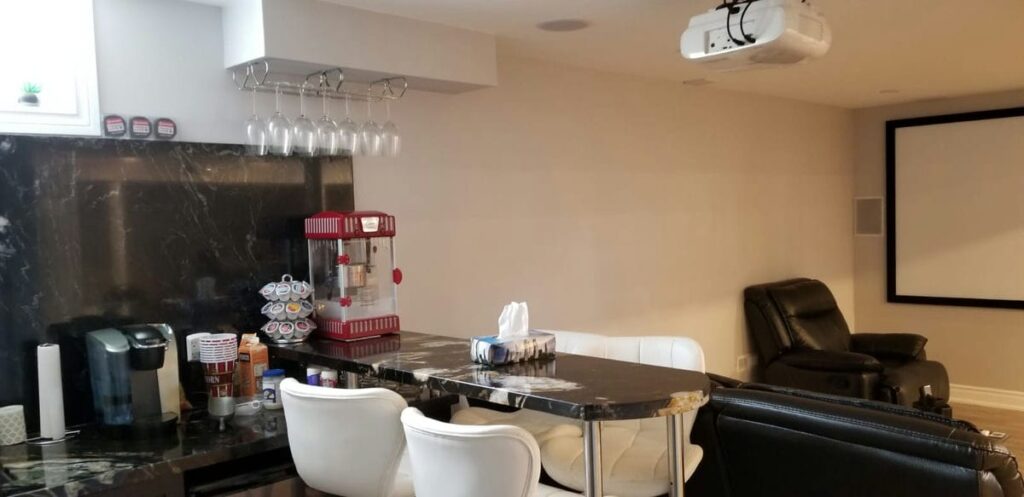 BASEMENT BATHROOM
There are several benefits to adding a bathroom in the basement of a home:
Increased functionality: A basement bathroom makes it more convenient for guests or family members who use the basement as a living space. It also makes it possible for the basement to be used as a separate living area, such as a guest suite or rental unit.
Increased home value: A basement bathroom can increase the overall value of the home, as it is considered a desirable feature by many home buyers.
Space-saving solution: Adding a bathroom in the basement can be a space-saving solution for homes with limited space on the upper levels.
Increased privacy: A basement bathroom can provide additional privacy for family members or guests who are using the basement as a living space.
Cost-effective: Installing a bathroom in the basement can be a more cost-effective solution than adding a bathroom on the upper levels of a home.
Increased energy efficiency: Adding a bathroom in the basement can help to increase energy efficiency by keeping plumbing and fixtures close together, reducing the need for long runs of pipe and ductwork.
Decorating freedom: The basement bathroom can be designed with a different theme or style than the upper level bathrooms, giving you more decorating freedom.
Increased Comfort: A basement bathroom means that no one has to go up and down the stairs when nature calls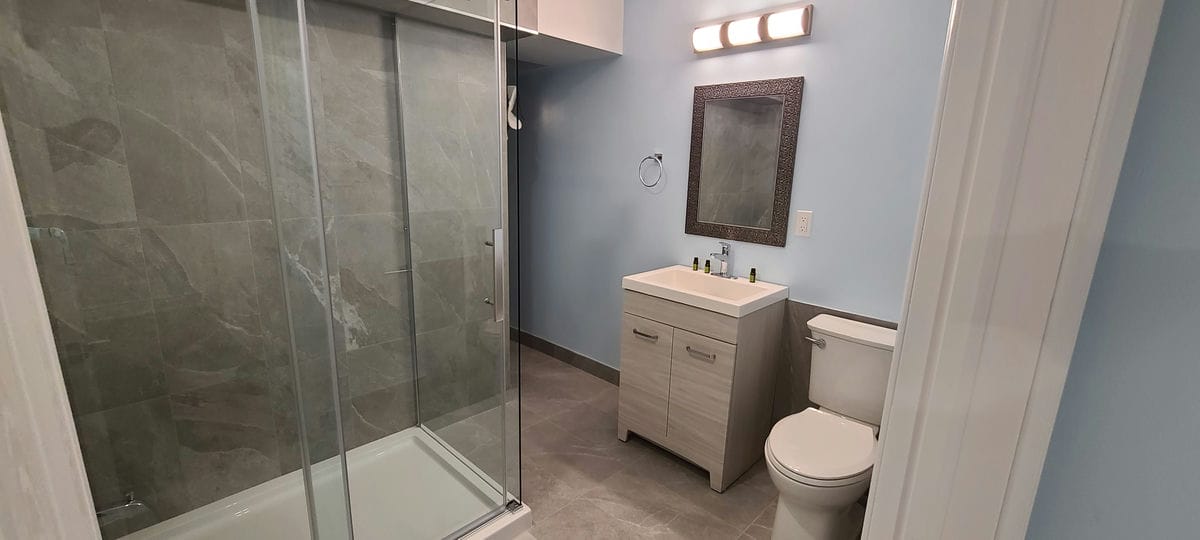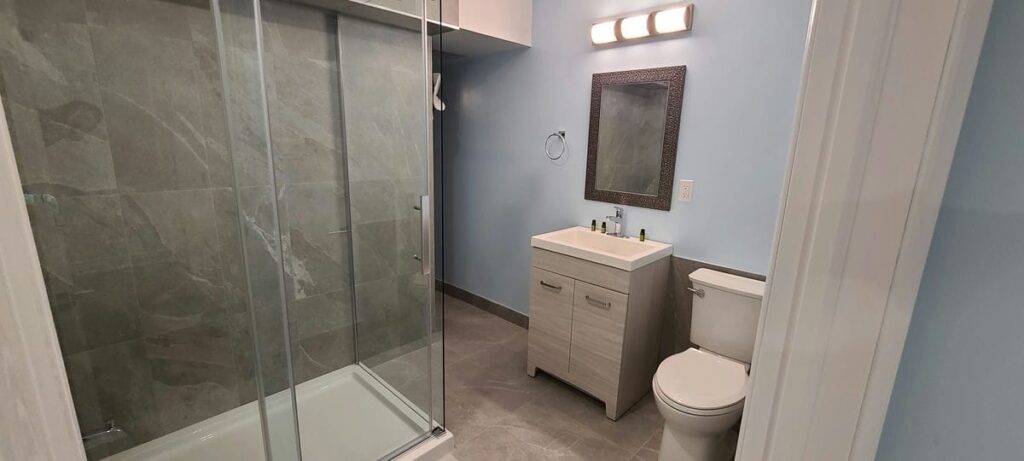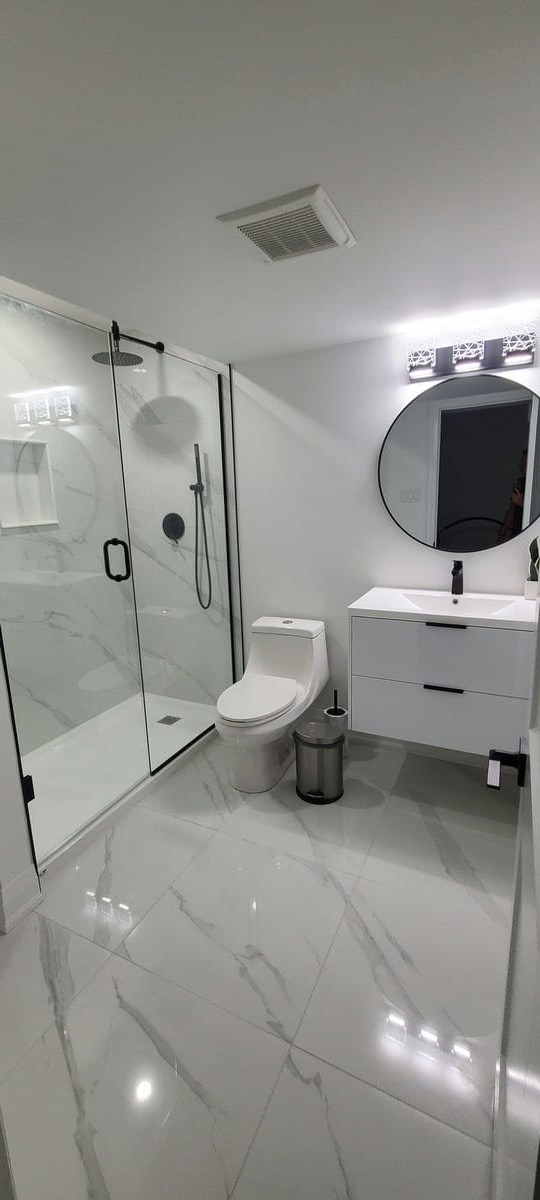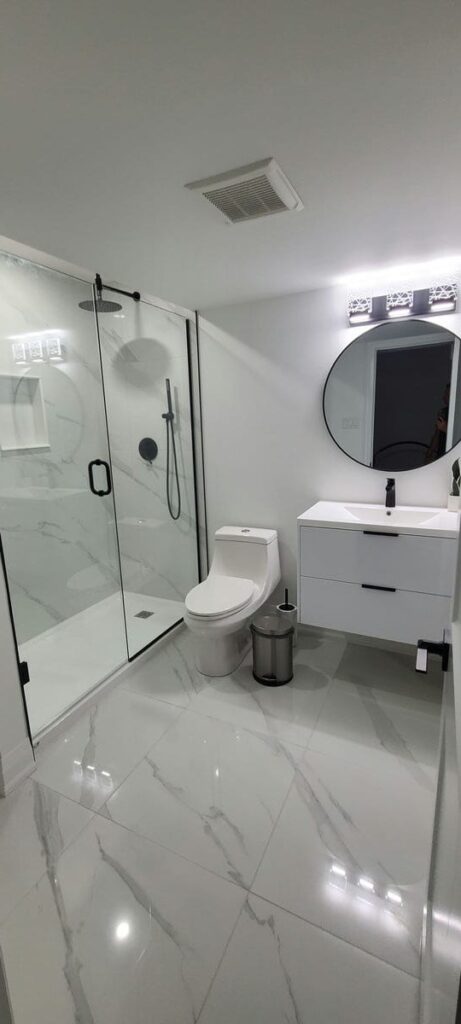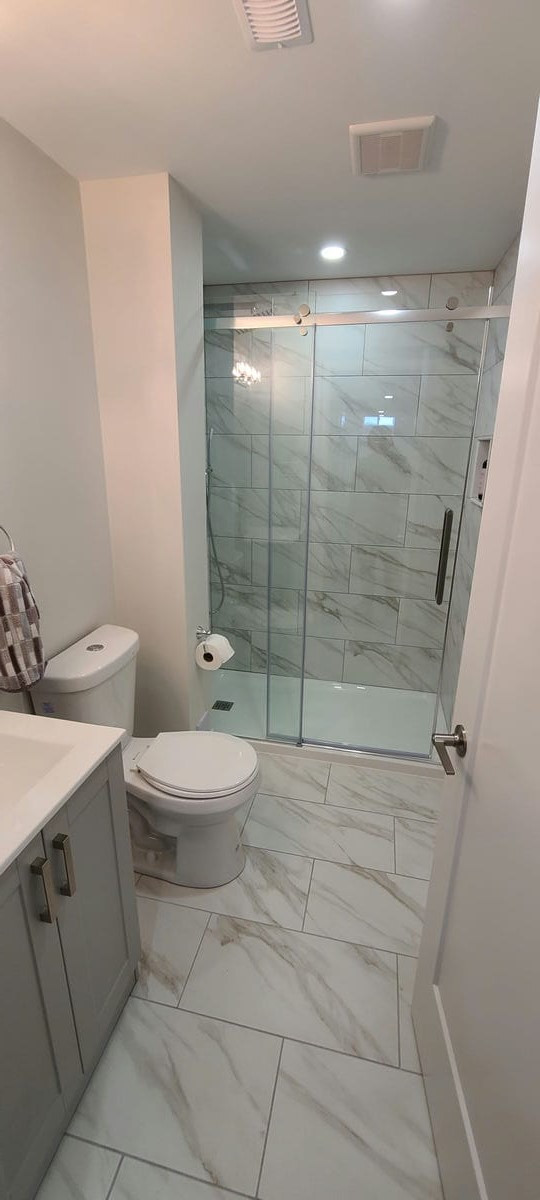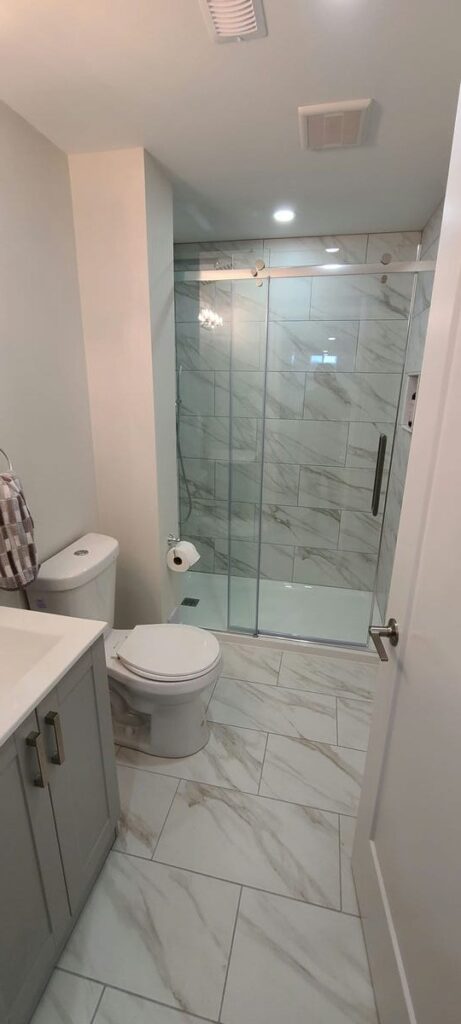 BASEMENT SAUNA/SPA
Adding a sauna or spa in your basement can be a great way to enhance your home's recreational and wellness options. However, before making a decision, it's important to consider the following:
Space: Make sure you have enough space in your basement for a sauna or spa and that it can be easily accessible.
Cost: Both saunas and spas can be costly to install and maintain, so make sure you have a budget in mind and consider the long-term costs.
Ventilation and insulation: Saunas and spas require proper ventilation and insulation to function properly.
Maintenance: Both saunas and spas require regular maintenance to keep them in good working condition.
Future use: If you plan on renting the basement or using it for other purposes in the future, it's important to consider whether a sauna or spa would be a desirable feature for future occupants.
Overall we recommend adding a Sauna into your basement if the space and budget allows for this. We've had many clients ask us to install saunas in their basement renovation. If you are an avid sauna user then it is very convenient to have one in the comfort of your own home. We usually purchase the sauna kits from Places like SaunaFin and then install them for the client. Often we add LED strip lighting below the benches for light and added comfort.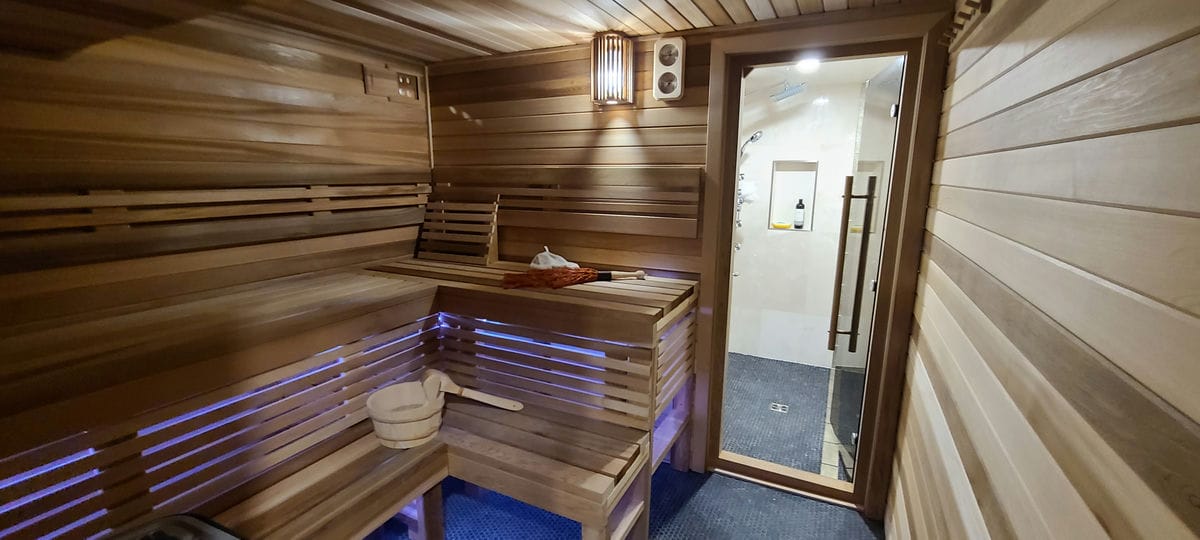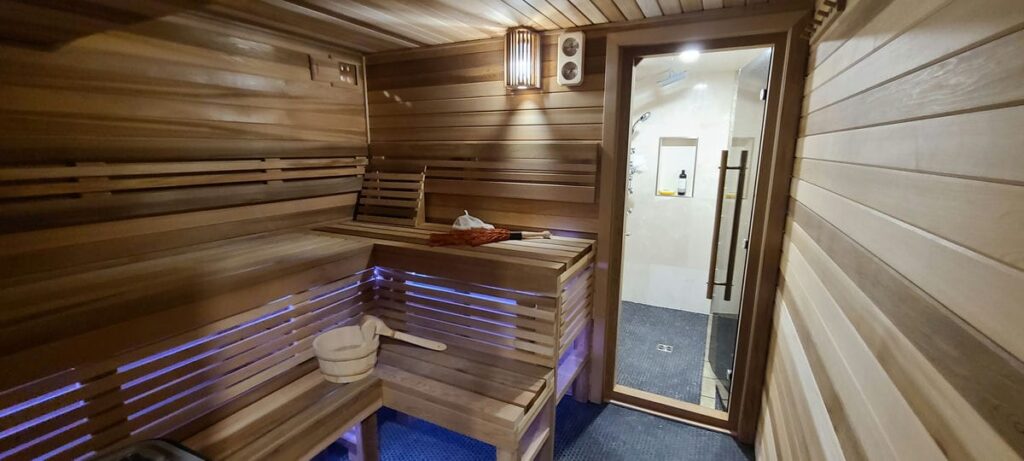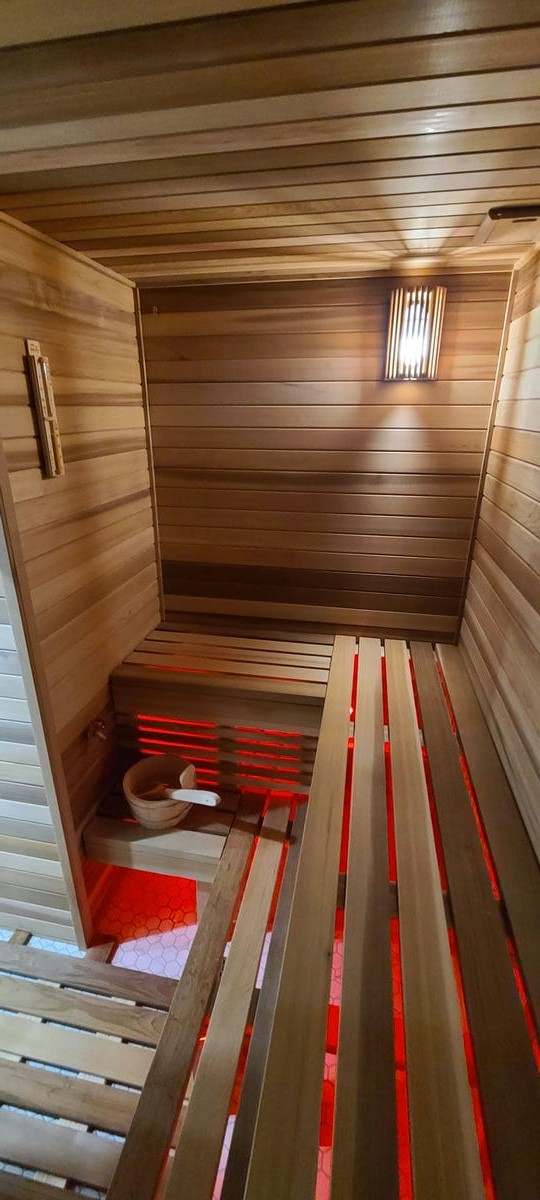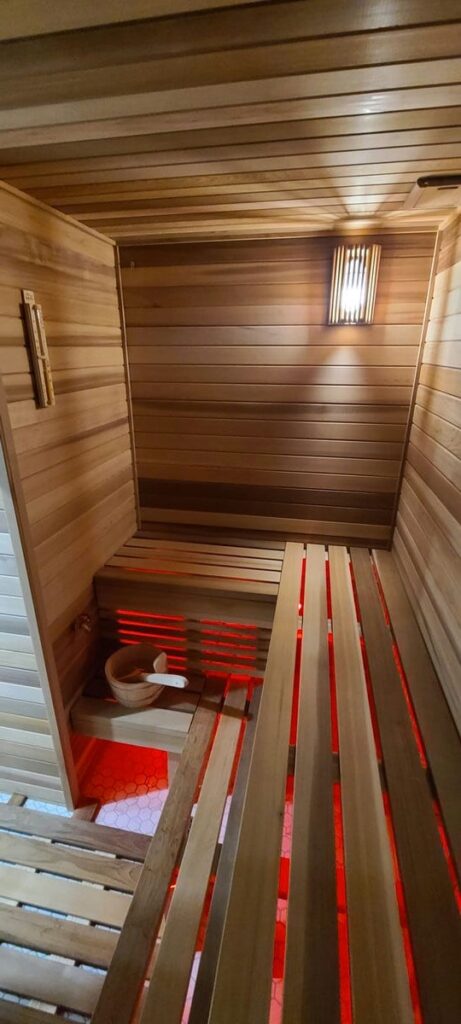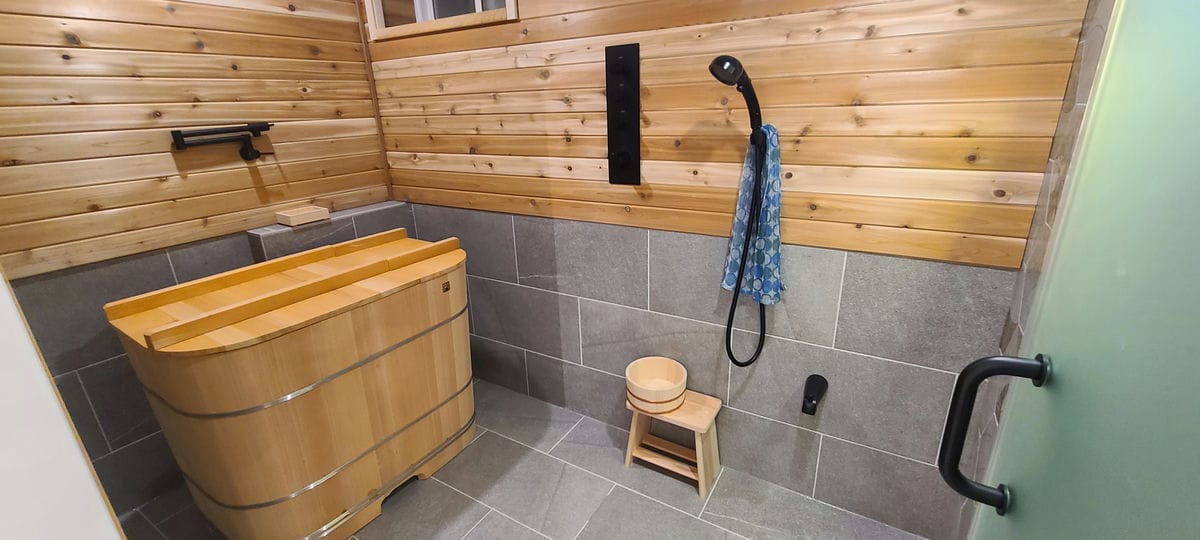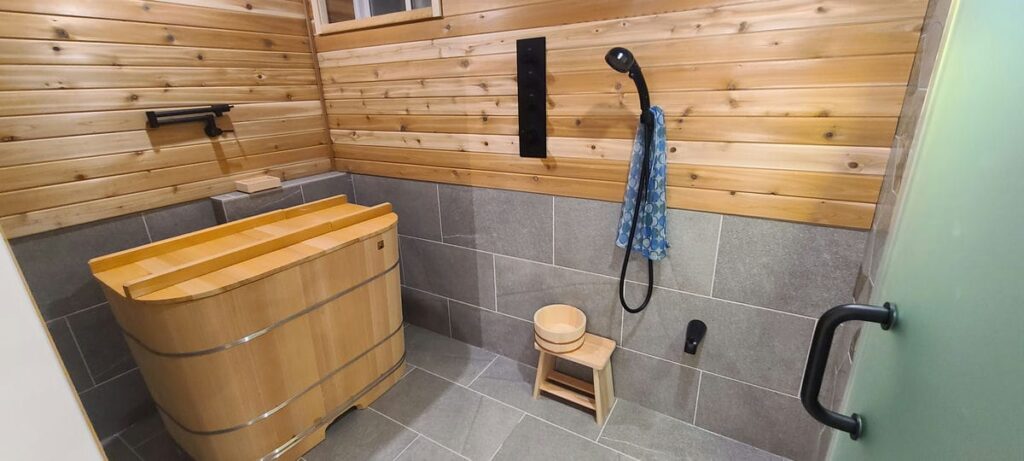 RENTAL UNIT/ INLAW SUIT
Adding a rental unit into your basement can be a great way to earn additional income, but it's important to ensure that the space meets all local zoning and building codes. Some benefits of doing a rental unit in the basement include :
Tax benefits: You may be able to deduct some expenses related to the rental unit, such as mortgage interest, property taxes, and repair costs, from your taxes.
Increased property value: Adding a rental unit can increase the value of your property.
Flexibility: You can choose to rent out the unit on a short-term or long-term basis, depending on your needs and preferences.
We always recommend doing the renovation under local building codes and to do everything with a permit. Always hire reputable and insured companies to do your renovation. They will help with the initial drawings before you submit them to the city, hire licensed trades to do the work and will always be in touch with the city and inspectors throughout the entire process.
As you can see, There are lots of possibilities to make the basement a living space that makes the most sense for you and your family. Contact us if you would like a Free No Obligation Estimate for your basement renovation.
Check out more posts below...
Complete the form below to request a FREE quote!