Basement Renovation in Bradford
Transform Your Basement with Yorkland Homes in Bradford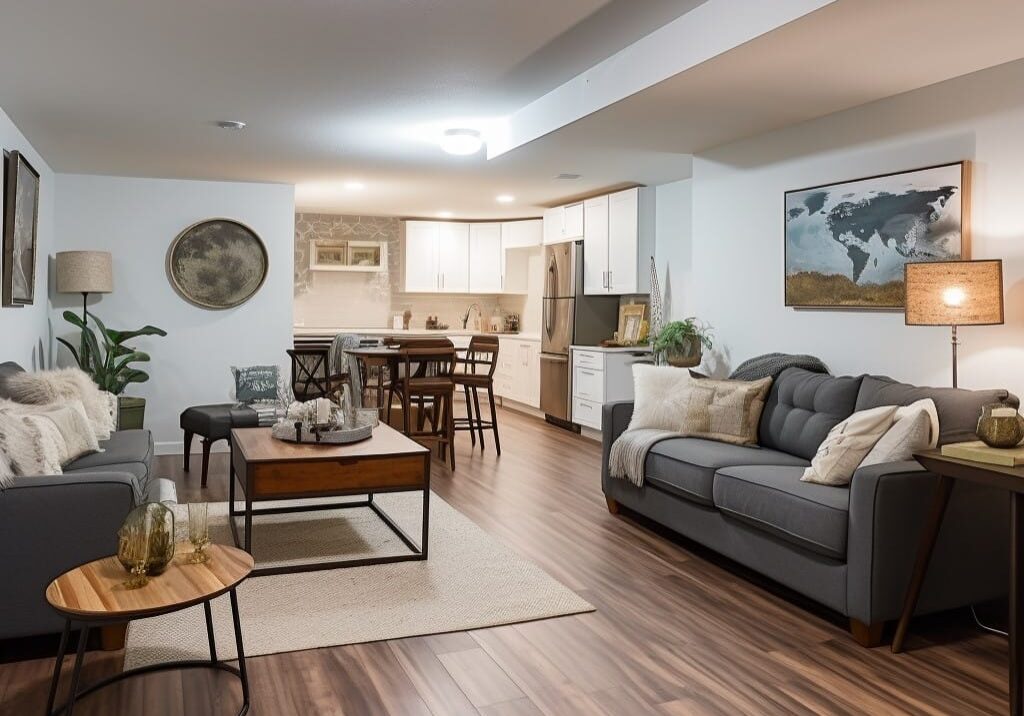 Finished basement as low as $35,000
Basement renovation experts
that you can trust
Real customers, real reviews. See what people are saying about Yorkland Homes - Bradford Basement Renovation Pros!
Why Choose Yorkland Homes for your Basement Renovation in Bradford?
Bradford residents, look no further! When it comes to basement renovations, Yorkland Homes stands out as the go-to expert in the region. Our deep roots in Bradford have allowed us to understand the unique needs and preferences of its residents. Whether you're dreaming of a cozy basement lounge, a state-of-the-art home theater, or a functional home office, our team is equipped with the skills and expertise to make it happen.
Every Bradford basement renovation project we undertake is a testament to our dedication to excellence and customer satisfaction.
The Significance of Basement Renovations
In the realm of home improvements, basement renovations hold a special place. Often overlooked, basements represent untapped potential in many homes. Undertaking a basement renovation is not just about beautifying a space; it's about optimizing and harnessing its full potential.
A well-renovated basement can drastically increase the functional living space in your home, providing room for a growing family, hobbies, or even additional income if transformed into a rental suite.
Furthermore, in areas like Bradford, where maximizing property value is paramount, a revamped basement can significantly boost your home's market appeal. By investing in a basement renovation, homeowners are not only enhancing their living experience but also making a strategic move towards future financial gains.
Types of Basement Renovations
Unlock the potential beneath your feet with our diverse range of basement renovation options, tailored to fit every vision and lifestyle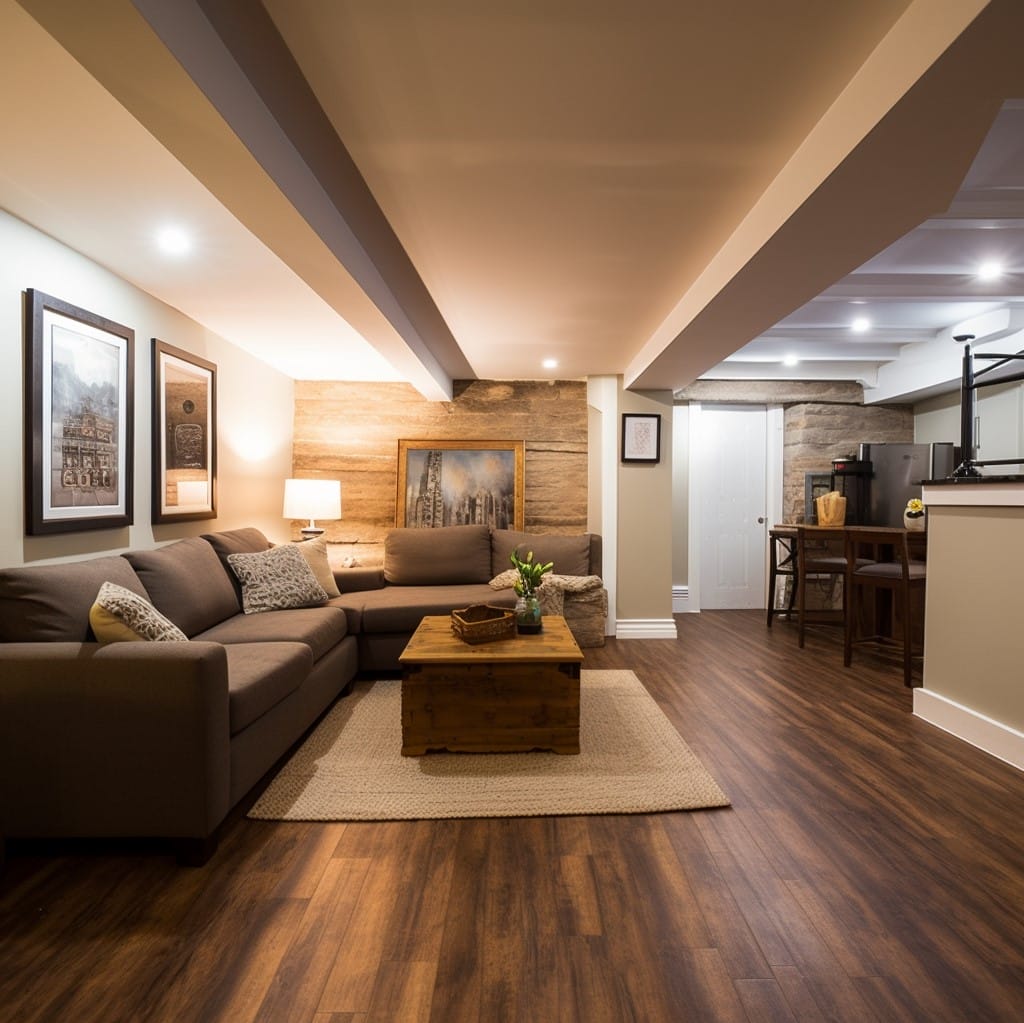 Basement Apartment
A basement apartment renovation is a smart way to optimize your home's potential. Whether you're looking to accommodate extended family or earn additional income through rentals, a well-designed basement apartment can provide a comfortable and independent living space. With a separate entrance, kitchen, bathroom, and living areas, it's a fully functional unit that adds immense value to your property. At Yorkland Homes, we ensure that every basement apartment we design meets local Bradford regulations and exudes a warm, welcoming ambiance.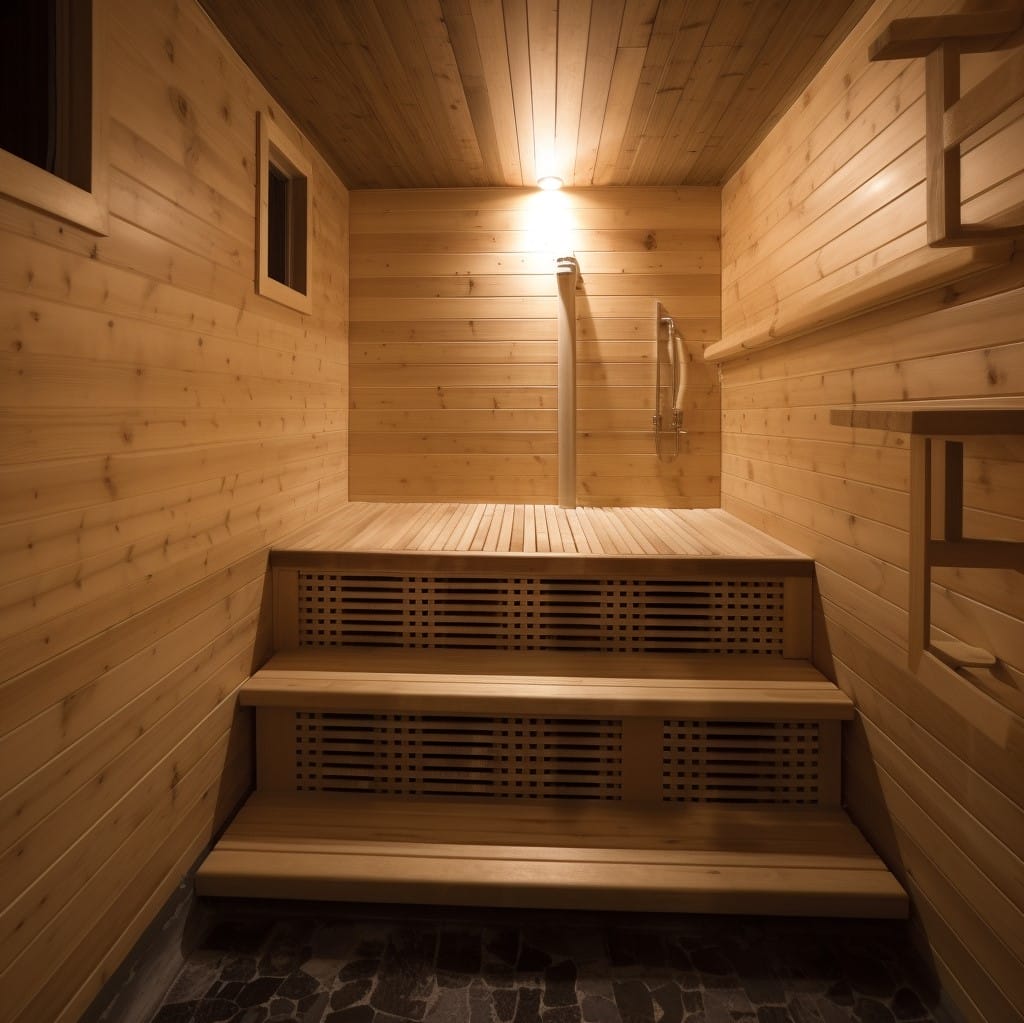 Sauna & Steamroom
Transform your basement into a personal wellness sanctuary with a sauna and steam room. These luxurious additions not only provide a space for relaxation and rejuvenation but also offer numerous health benefits, including improved circulation, detoxification, and stress relief. With Yorkland Homes, you can have a spa-like experience right in the comfort of your Bradford home, tailored to your preferences and designed to fit seamlessly with the aesthetics of your space.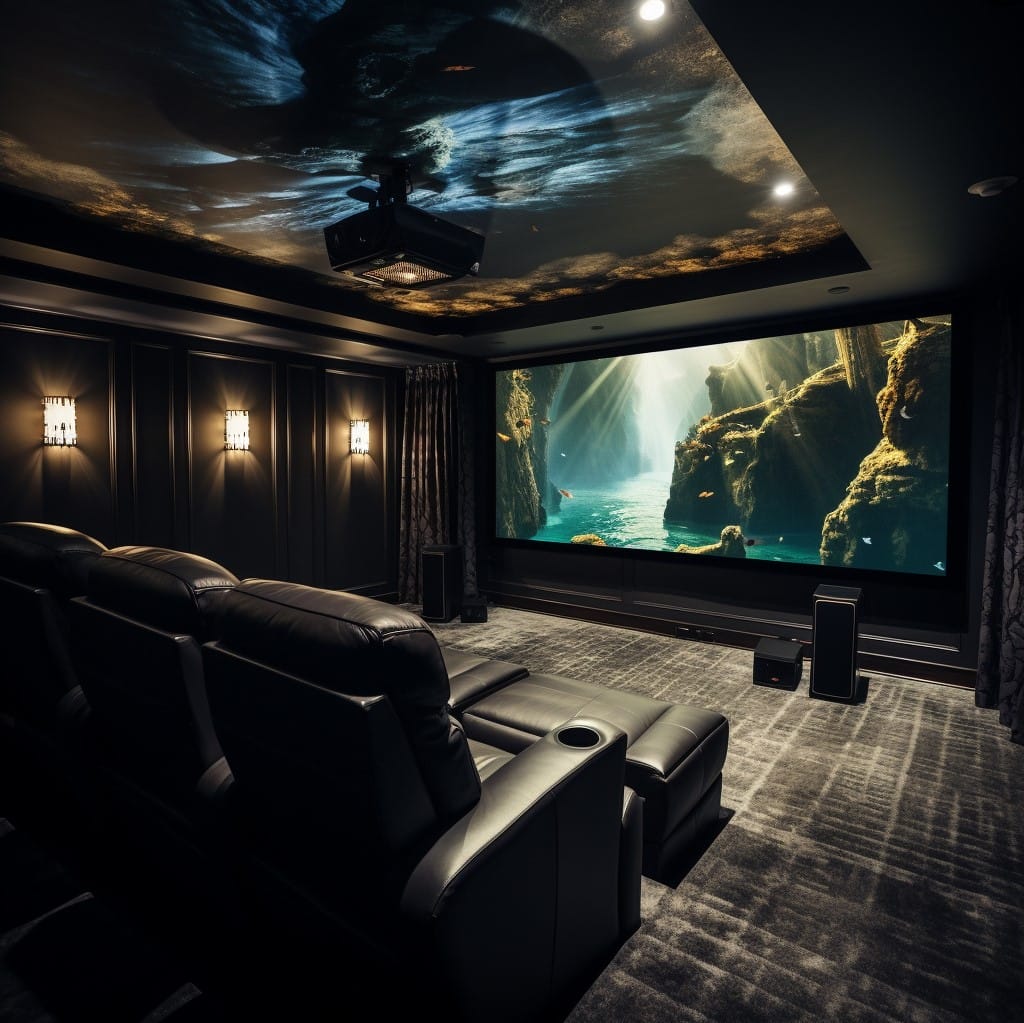 Home Theatre
Imagine having a cinematic experience without leaving your home. A basement home theatre renovation can make this dream a reality. With the right acoustics, seating, lighting, and state-of-the-art audio-visual equipment, your basement can be transformed into an entertainment hub where family and friends gather for movie nights, sports events, or binge-watching sessions. Yorkland Homes specializes in creating bespoke home theatres that cater to your specific needs, ensuring that every movie night feels like a premiere in Bradford.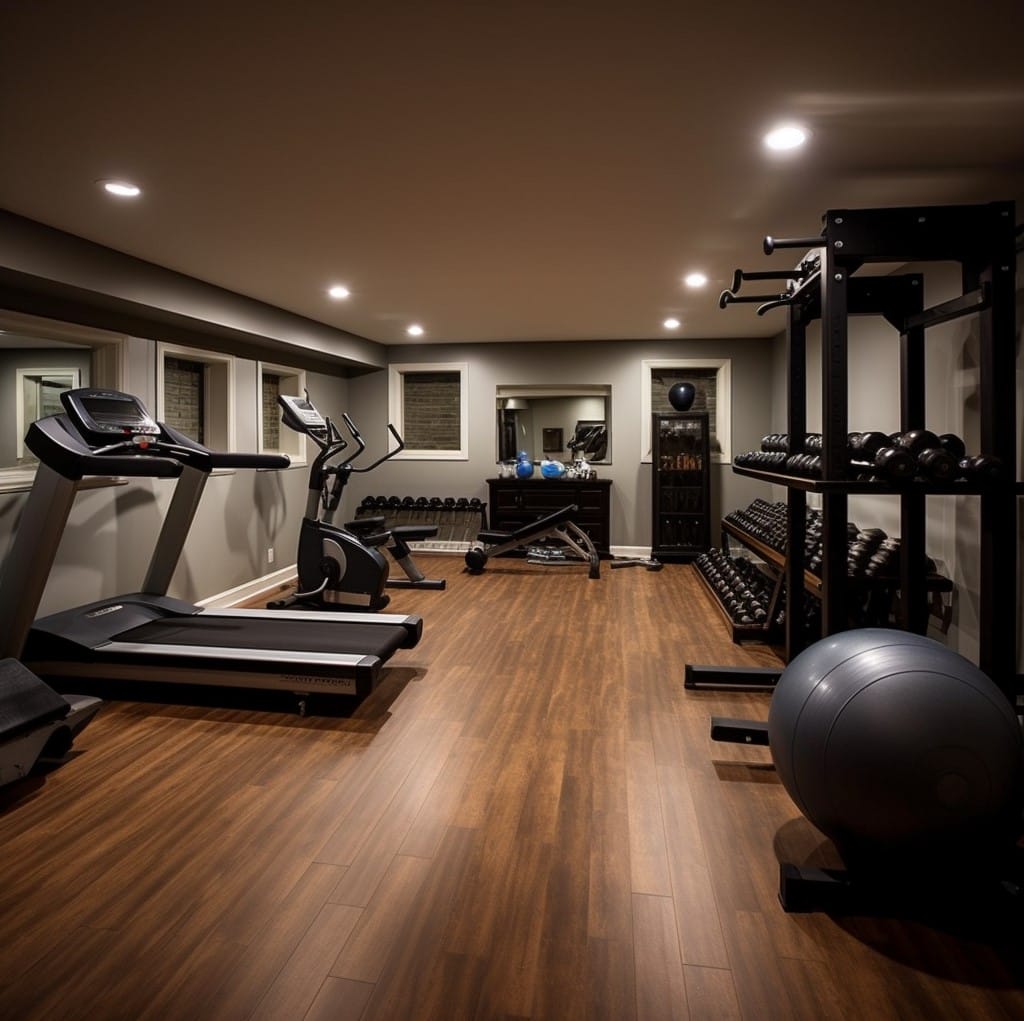 Home Gym
For fitness enthusiasts, converting a basement into a home gym can be a game-changer. Say goodbye to crowded gyms and commuting; with a personalized home gym, your workout routine becomes more flexible and tailored to your needs. Whether you're into weightlifting, cardio, yoga, or a mix of everything, Yorkland Homes can design a space that's equipped with the right flooring, mirrors, ventilation, and equipment storage, making your fitness journey in Bradford more convenient and inspiring.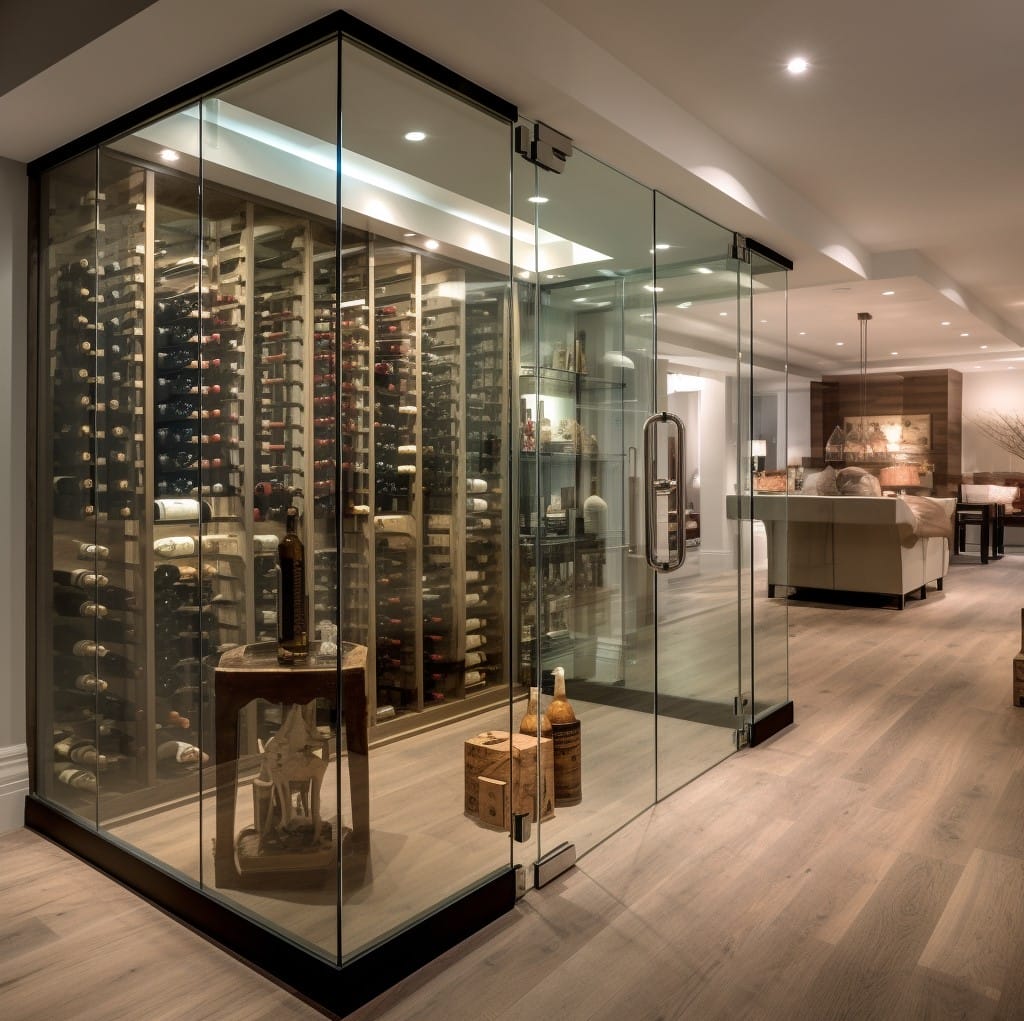 Wine Cellar
For wine aficionados, a basement wine cellar is more than just storage—it's a testament to their passion. A well-designed wine cellar not only provides optimal conditions for wine aging but also serves as a beautiful showcase for your collection. With controlled temperature, humidity, and bespoke racking systems, Yorkland Homes ensures that your wines mature gracefully while adding a touch of sophistication to your Bradford home.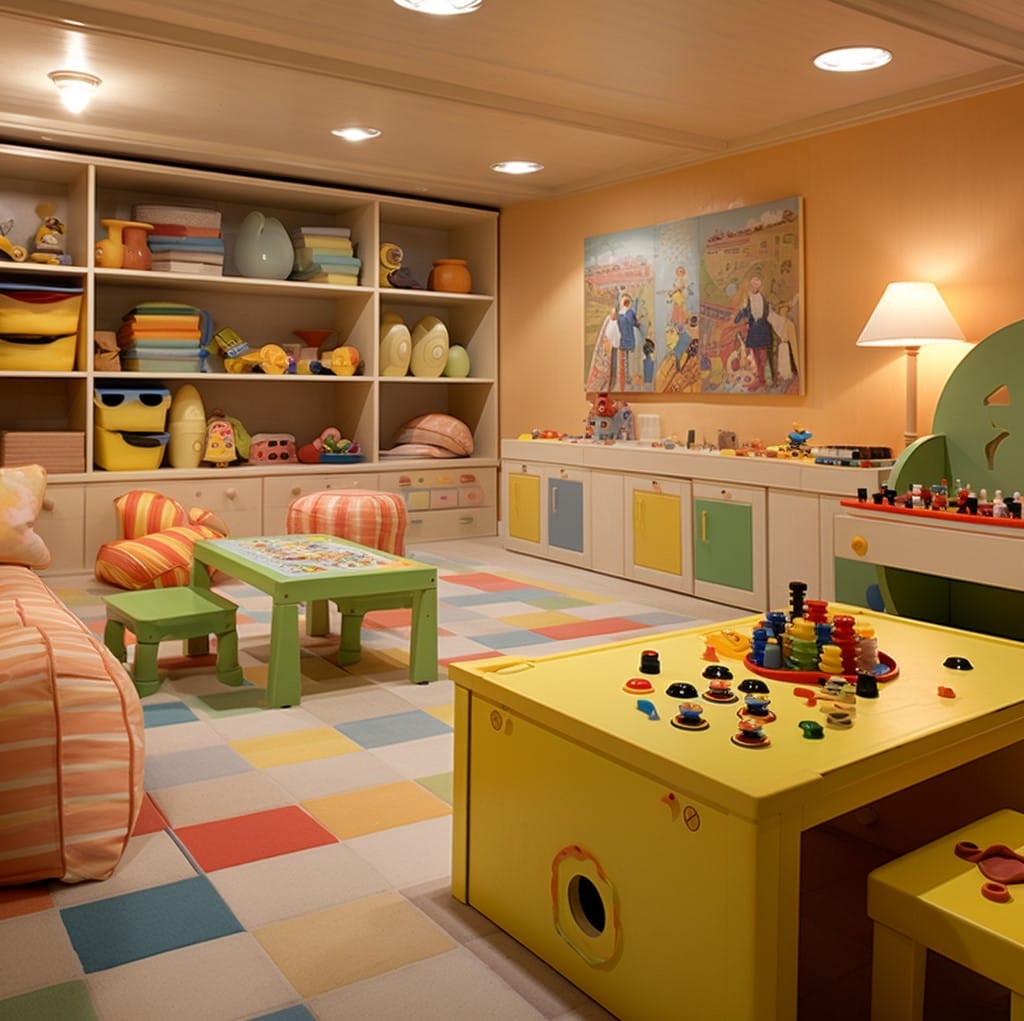 Playroom & Kids' Zone
In today's fast-paced world, having a dedicated space for children to play, learn, and grow is invaluable. Transforming your basement into a vibrant playroom or kids' zone can provide a safe and stimulating environment for your little ones. From colorful murals and interactive play areas to educational corners and craft stations, the possibilities are endless. Yorkland Homes takes pride in creating spaces that cater to the imaginative and dynamic needs of children, ensuring that your Bradford home becomes a haven of fun and creativity for the younger members of the family.
What Makes Yorkland Homes Stand Out?
In the vast landscape of home renovation, Yorkland Homes has carved a niche for itself, consistently delivering unparalleled results. Here are six distinguishing factors that set us apart:
Having served the Bradford community for years, our deep-rooted connection gives us an edge. We understand the architectural nuances, local regulations, and the specific preferences of Bradford residents, ensuring our renovations resonate with the community's ethos.
We firmly believe that every home has its unique story and character. Our approach is never one-size-fits-all. Instead, we tailor our solutions, ensuring that each renovation reflects the homeowner's vision and the distinct charm of the property.
At Yorkland Homes, quality isn't just a buzzword—it's a promise. Our team of skilled professionals is dedicated to delivering impeccable craftsmanship, using only the finest materials and state-of-the-art techniques to bring your vision to life.
We pride ourselves on maintaining open and transparent communication throughout the renovation process. From the initial consultation to the final reveal, our clients are kept in the loop, ensuring that their inputs are valued and incorporated.
Our expertise isn't limited to just one aspect of home renovation. Whether it's basement transformations, kitchen makeovers, or full-home overhauls, Yorkland Homes offers a comprehensive suite of services, making us a one-stop solution for all your renovation needs.
We understand that home renovations are deeply personal, and we strive to exceed expectations at every turn. Our team goes the extra mile to ensure that every client's experience is smooth, stress-free, and results in a space they're proud to call home.
See firsthand the transformative magic Yorkland Homes brings to basements across the York Region, Simcoe County and surrouding areas.
Basement Renovation in Bradford has never been easier with our 5 step process
Initial Consultation

Our journey together begins with a comprehensive consultation. We sit down with you to understand your vision, needs, and preferences. This step allows us to gauge the scope of the project, potential challenges, and your desired outcomes. It's a collaborative process where we listen intently and offer our expert insights.

Design & Planning

Once we have a clear understanding of your vision, our talented design team gets to work. We draft detailed blueprints, 3D visualizations, and layout plans, ensuring that every inch of your basement is optimized. This phase also involves material selection, where we guide you through the myriad of choices, always keeping in mind the aesthetics and functionality.

Pre-Construction Review

Before diving into the construction phase, we conduct a thorough review to ensure everything is in order. This involves a final check on materials, design details, and ensuring that all preparations align with Bradford's local standards. It's our way of guaranteeing a smooth transition to the execution phase.

Construction & Execution

With plans in place and preparations complete, our skilled craftsmen take over. They bring the designs to life, ensuring precision and quality in every detail. We maintain open communication throughout this phase, keeping you updated on the progress and ensuring that the project stays on track and within the stipulated timeline.

Final Walkthrough

Once the renovation is complete, we invite you for a final walkthrough. This is an opportunity to inspect the space, ensure everything aligns with your vision, and make any last-minute tweaks if needed. Once you're completely satisfied, we hand over the transformed space, ready for you to enjoy and make memories in.
Meet the Experts Behind Your Bradford Basement Renovation Project
Plumbers
A basement often houses crucial plumbing lines, and any renovation might require adjustments or expansions to the existing system. Our experienced plumbers ensure that all water and drainage systems are efficiently installed and functioning perfectly. Whether it's adding a new bathroom or reconfiguring existing pipelines, they handle it with precision.
Carpenters
The artisans of the construction world, our carpenters breathe life into the design. From crafting bespoke furniture pieces and built-in shelves to installing doors and molding, their meticulous craftsmanship ensures every wooden element in your basement is both functional and aesthetically pleasing.
Electricians
Lighting can make or break a space. Our licensed electricians ensure that your basement is well-lit, safe, and equipped with all the necessary electrical outlets and fixtures. They meticulously plan and execute the wiring, ensuring safety standards are met and that the ambiance is just right.
Drywall & Insulation Experts
Insulation is crucial for maintaining the right temperature and soundproofing in a basement. Our drywall and insulation experts ensure that your walls are perfectly insulated, providing a comfortable environment while also preparing the walls for painting or wallpapering.
Flooring Specialists
The right flooring can transform the look and feel of a space. Depending on your preference, be it hardwood, tiles, carpet, or laminate, our flooring specialists ensure a flawless installation, giving your basement the foundation it deserves.
Painters
The final touch to any renovation is the paint job. Our painters, with their keen eye for detail, ensure that every wall, nook, and cranny is painted to perfection, bringing together the entire look of your newly renovated basement.
Interior Designers
While not always classified as contractors, our interior designers play a pivotal role in ensuring that every element of your basement comes together harmoniously. From selecting the right color palettes to arranging furniture and decor, they add the finishing touches that make your basement truly feel like home.
With such a diverse team of experts at Yorkland Homes, you can rest assured that every aspect of your basement renovation in Bradford is handled with care, expertise, and a commitment to excellence.
Get A Free No Obligation Estimate!
Complete the form below or call
(416) 877-8218 to request a FREE quote!
Common Questions About Basement Renovation
Navigating the world of basement renovations can be filled with uncertainties. At Yorkland Homes, we believe in empowering our clients with knowledge. To help you better understand the intricacies of basement transformations in Bradford, we've compiled a comprehensive list of frequently asked questions.
Basements often represent untapped potential in a home. A well-executed renovation can drastically increase your home's functional living space, adding value both in terms of property worth and lifestyle enhancement. Whether you're looking to create a recreational area, a home office, or an additional living suite, a renovated basement can cater to a multitude of needs.
Complete the form below or call (416) 877-8218 to request a FREE quote!